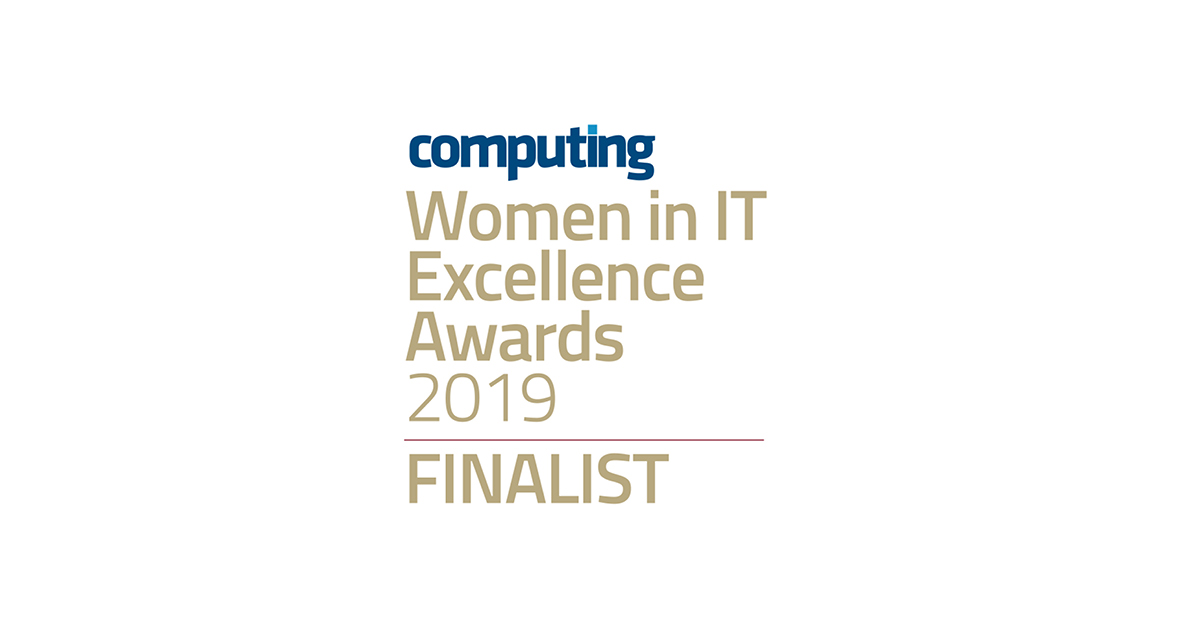 Agilisys Finalists: Women in Tech Excellence Awards 2019
The Women in IT Excellence Awards celebrates the achievements and talents of over 500 women across the IT industry. We spoke with Sue Lees – Chief Executive of Elevate East London who won the Woman of the Year Award and our two finalists Caroline Gray – Principal Consultant and Zoe Wilson – Head of Office […]
The Women in IT Excellence Awards celebrates the achievements and talents of over 500 women across the IT industry.
We spoke with Sue Lees – Chief Executive of Elevate East London who won the Woman of the Year Award and our two finalists Caroline Gray – Principal Consultant and Zoe Wilson – Head of Office 365 Collaboration & Content; who were nominated by their peers as significant influencers of change within IT in our organisation, we wanted to find out a little more about what they have achieved and their path to success.
Sue Lees, Chief Executive at Elevate East London Winner of the Women of the Year Award
How do you feel about winning the 'Woman of the Year' award?
I am amazed to have won!  I am just doing what I believe to be right, which is encouraging young women into careers in IT and STEM more generally.  It is important to lever one's position to help others – so paying it forward! I am honoured to be in such esteemed company, and all the award winners are doing amazing stuff to promote women into IT – which means everyone's a winner.
Can you tell me briefly about your journey as CEO of Elevate East London and working with the London Borough of Barking and Dagenham (LBBD) and the various projects that have brought the council to where they currently are?
I have been the CEO of Elevate for 8 years, and in that time we have worked closely with the Council in transforming both our own services and the Council's.  Agilisys was a key partner in the Council Ambition 2020 programme, which has won them many accolades.  I am very proud to be part of that journey.  Prior to working at Agilisys, Elevate and LBBD, I worked in both the public and private sectors.  I am a qualified chartered accountant, so rely on my finance skills hugely.  I am also a maths graduate, so very keen to encourage young women into STEM careers – for me, it has been a passport to success.  If you can understand numbers you can understand everything!
What are the key things you need to do in order to build a successful organisation?
I believe in people.  No one gets up in the morning wanting to do anything other than be successful.  I am open and honest and believe in trust.  I will always say yes if I possibly can. I believe in getting stuck in and have taken on voluntary roles in Barking and Dagenham so I could deepen my understanding and connectivity.  I have acted as a Chair of Governors at a local school, which made me more aware of the need to encourage young women into STEM careers as one example. I am currently on the Board of two local health care providers, and I am excited about the joined-up opportunities that presents. As one of the most senior women in Agilisys I consider it part of my role to champion bringing more women into the organisation, which means creating a pipeline of talent to choose from.  We have to start in school, there is no doubt in my mind.
Caroline Gray – Principal Consultant. Finalist for Transformation Leader Award
One of the reasons that you were nominated is for the role you played in a key transformation project; can you tell us about it and your overall thoughts and feelings about the project.
In my current engagement, I am leading a project that is delivering robotic process automation for a large city council. We have a team of business analysts, RPA developers and around 30 VIP stakeholders across 10 processes. We are also creating an RPA Centre of Excellence to enable them to adopt this new capability into their transformation team, in the future the team will lead the development and governance of RPA to support their business goals. What's great about the client team is their clarity around their strategic goals and objectives. They know why they are making improvements and how they need technology to play its part. I am able to structure our analysis and design outputs to ensure their objectives will be achieved. This isn't just about IT – it never is. I believe success comes from blending innovative technical solutions with solid adoption and change management practices – winning hearts and minds, sharing success stories and walking the talk are critical elements of leading transformation.
How is culture important to this process, is this just at Agilisys or client-side too?
Culture is everything in organisations and leaders have an extra special part to play in creating the right sort of culture. You get to set the tone with what you say and what you do. For me language is a really powerful tool that is often overlooked – what you say, how you say it, the energy you bring to a room all help you to be a great leader. More importantly, it's about knowing when to shut up!  It's about really listening to people and watching what is really going on. As a transformation leader, I don't have all the answers and I am fine with that! I find great people, bring them together and ask them the right questions to ensure we can collectively achieve our goals and our client's goals. When I go and work with my clients, I am not just there to give advice or to tell them the answer – I am there to challenge their thinking, to ask them what is important to them and why. This helps us to deploy our strengths in Agilisys – our passion, integrity and our technical know-how – in the right direction.
How do you feel about being nominated and becoming a finalist?
I am thrilled to have been nominated in the Transformation Leader category in this year's awards. I have been working in the IT space since I left university in 2004. I studied computing and back then I was one of two women on a course of 100 people. I am so grateful to be recognised by my colleagues and peers, the response on social media has been lovely so a big thank you to everyone who has got in touch to say 'well done' – it really means a lot.
Zoe Wilson, Head of Office 365 Collaboration & Content. Finalist for Role Model of the Year Award.
One of the reasons you have been nominated was for the work you are doing in the Agilisys' Women's Empowerment Committee, can you tell us about the goals of the committee and it's work?
Within the Agilisys Women's Empowerment (AWE) steering committee, we have been working to raise awareness and education of the challenges faced by women in the technology industry. I have worked closely with many of our customers, discussing how they've addressed these challenges internally, and have also taken part in work shadowing events for sixth forms girls as well, demonstrating what a day for women in IT might look like. I think it is super important to help change the image of working in technology and help make it a more attractive industry for young women to want to work.
You have played a pivotal role in mentoring and coaching junior members and apprentices in your team and bringing them up to speed with the business and the technology, you have done this successfully on many occasions, what is your advice on the key to this success?
I have had two apprentices in my team, a recent grad who joined via our intern program and a junior who came to work here on her gap year. She is likely to come back to the team next year after finishing her computing degree. I think young people have such a different and refreshing outlook, it is important to listen to what they have to say. For me, having people join the team at this young age certainly helped me see what we do through different eyes. For all the young people who have joined the team, this technology is typically completely new to them – initially, we get them to familiarise themselves with the tech stack and use the knowledge and expertise of the wider team to help. I also like to push them out of their comfort zone to give them confidence at an early point – typically I do this first of all by getting them to present to the team about themselves. Then, I get them to start running some of our training and adoption workshops. This helps them start to understand how to talk about the products we deliver and how to interact with customers, as well as generally being more confident.
You have been recognised twice internally at our Investing in Leadership (IIL) days and this is another reason why you were nominated for the Role Model of the Year Award. Can you tell me a little more about your internal recognition?
For the IIL awards I was quite humbled to be honest. In my first year, I received the award for innovation with 4 separate nominations outlining some of the things I had implemented since joining. This included leading on the adoption of O365 across Agilisys, implementing the Agilisys resource hub and generally just getting out there and helping our colleagues use the tools we have to work better. Then in my second year, I received the award for passion – this was awarded by votes rather than written nominations, so was more about the behaviour across the year as a whole. These awards are voted for by the other people attending IIL – it is a great feeling to know that so many of my peers and the senior leadership of the organisation believe that I have earned their recognition.
How do you feel about being nominated and becoming a finalist?
I'm also incredibly humbled to be nominated for the role model of the year award. I think it is incredibly important that we have really visible female role models working within the technology industry. Truly diverse teams and companies are more successful and we absolutely need to get more young girls excited about what a career in tech could look like. We need to be bold and visible and show them just how much fun it can be. Just being shortlisted as a finalist is a great feeling – but regardless of who wins on the day, the Women in IT awards are incredibly important as they provide a platform to help provide visibility of some of the great work that our female leaders are doing every day across the whole of the tech industry.