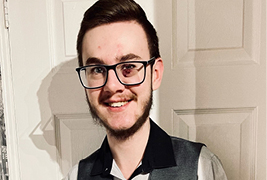 My Agilisys Journey: Stephen Bagley
Customer Service Advisor, Stephen Bagley, tells us more about his role in Kent County Council's Contact Centre over the last three years. What is your role within Agilisys? I am a Customer Service Advisor representing Kent County Council's Contact Centre. We are the first point of call for public services such as adult and children […]
Customer Service Advisor, Stephen Bagley, tells us more about his role in Kent County Council's Contact Centre over the last three years.
What is your role within Agilisys?
I am a Customer Service Advisor representing Kent County Council's Contact Centre. We are the first point of call for public services such as adult and children social services, education admission, registrations and highways, amongst others. I am also an administrator and specialist for the Blue Badge service.
What does a typical day look like?
A typical day starts at 8:30am on the phones and responding to incoming calls about the different services I am skilled in.
I am then assigned onto my Blue Badge administrative work which involves answering emails, calling customers to discuss cases, helping the Blue Badge manager in assigning team tasks and supporting colleagues.
We have meetings and group chats throughout the day to keep in touch and ensure our team tasks are running effectively. Our working day typically wraps up at 5pm.
Tell us about your team
I am privileged to work with a fantastic group of people – they are not just my colleagues but also my closest friends. I like to think of them as my work family! My colleagues pick me up when I am feeling low, they support me through the dark moments, and we come together for fun and to just generally catch up.
During the COVID-19 pandemic, our work family has remained strong and, despite having moved to a virtual setting, I know I am always a message away from them. Equally, they know I will be there for each and every one of them. Our closeness and continual support results in better work and going from strength to strength in all areas.
How did you get to where you are now?
I have been with Agilisys for almost three years now and have reached this stage of my career through hard work and striving for excellence each day. You start at the bottom and through training, feedback and aiming to being the best you can be you can progress your journey.
I have pushed myself each year, taking onboard feedback given to me and taking ownership of my job. Every morning, I have a clear plan of what I need to do and at the end of each day I ask myself "have I achieved what I wanted?"
If the answer is yes, great! If not, you look at what didn't go so well and then aim to rectify that issue the following day. To progress and succeed, you must be disciplined, confident and have the right mindset. Most importantly, you must believe in yourself – the rest follows.
What do you enjoy most about your job and working at Agilisys?
The combination of having a clear task or plan and the subsequent feeling of satisfaction having successfully completed this objective. That feeling drives me to do better each and every day
I also love helping our customers. Supporting the people of Kent and giving them the best customer service possible is the thing that makes everything worthwhile. The feeling I get when supporting a customer and resolving their problem is one I cannot fully explain but there really is no better feeling.
I love helping people, whether that is our customers, my colleagues, or the management team. When I log off at 5pm, knowing I have helped people to the best of my ability, it makes me feel like I've really made a different to people's lives. This is arguably the best aspect about working for Agilisys.
What advice would you give to someone looking to start their career at Agilisys?
I would say you have got to be willing to work hard and do your best in all aspects of your work. It is not going to be easy, but you've got to give it your all.
You need to enjoy speaking to customers over the telephone and via email and you need to enjoy communicating with people on a day-to-day basis. Most importantly, be confident in your work, support your team, work well with your manager – and do all of this with a smile!
Lastly, enjoy it and take a pride in everything you do. You have the power to succeed – this is your career so grab it by the scruff of the neck!