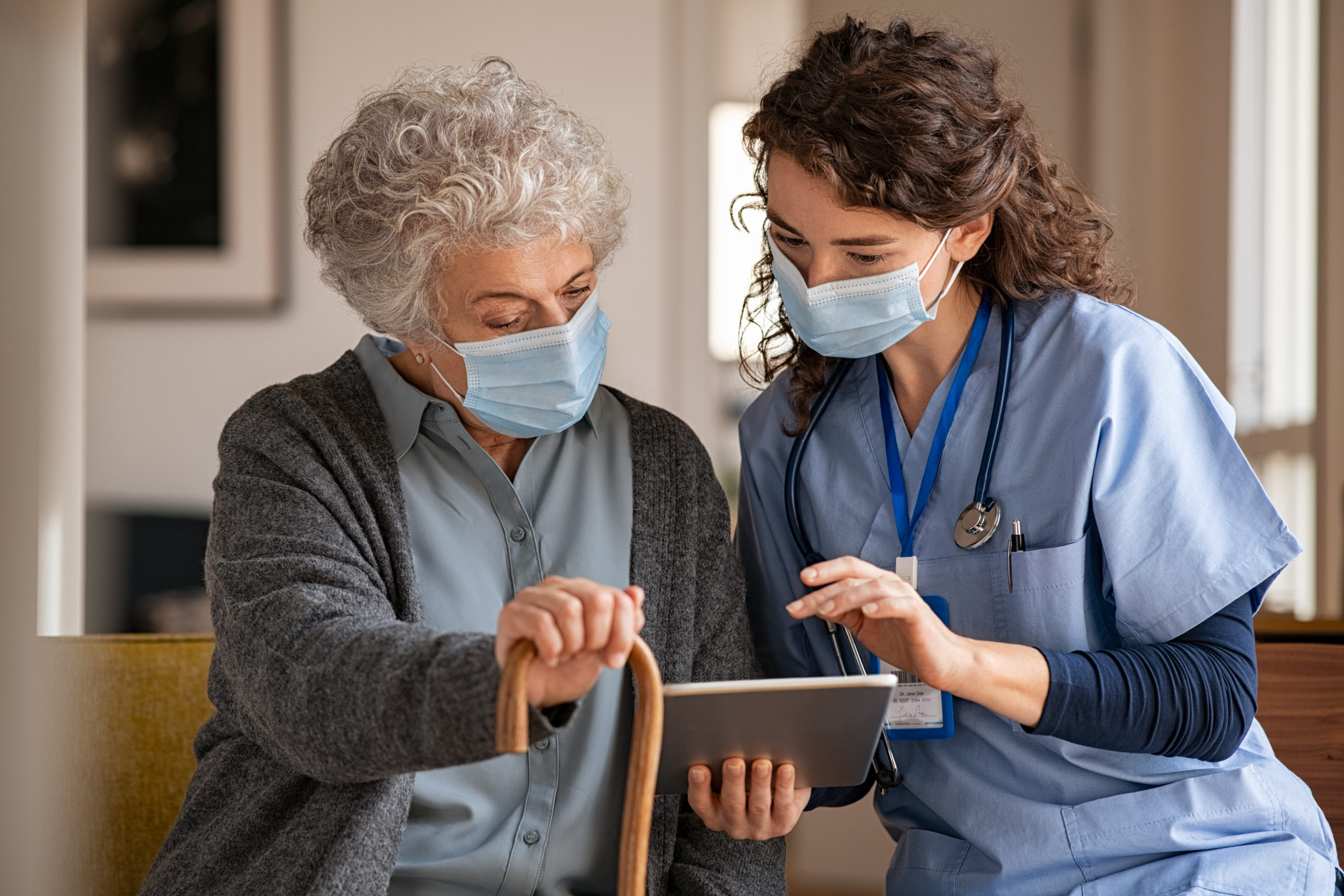 ICS intelligence: overcoming challenging timelines
The deadline is fast approaching for Integrated Care Systems (ICSs) to have their plans in place for the data, systems and skills that will drive population health management (PHM) through advanced data sharing and analytic capabilities. As the NHSx vision of 'What Good Looks Like' states, linked data is crucial to addressing health inequalities and […]
The deadline is fast approaching for Integrated Care Systems (ICSs) to have their plans in place for the data, systems and skills that will drive population health management (PHM) through advanced data sharing and analytic capabilities.
As the NHSx vision of 'What Good Looks Like' states, linked data is crucial to addressing health inequalities and enabling the required shift towards a prevention-based approach to health and care.
At Agilisys, through our work across the public sector, including with several ICSs, we've witnessed first-hand how data is the future. Without data, population health management is nigh-on impossible. We are passionate about the way data and insight will push the boundaries of what we can achieve in a health and social care setting to improve the lives of underserved and poorly represented communities.
We are working with two large NHS trusts to predict DNA rates across specialisms and shed light on the reasons why patients do not attend their appointments to inform future intervention activity. We are working with the trusts to understand the effects of missed appointments on the patients' outcomes within specific pathways. It is hoped that shedding light on inequalities and their impact in this way will help highlight areas to address to maximise positive outcomes for all patients.
While the potential of data in PHM is enormous, we understand the pressure you are under to meet the timelines stipulated by the national requirements. Time is tight to develop the plans needed to embed the people, processes and technology that will enable data-driven population health management in the next three years: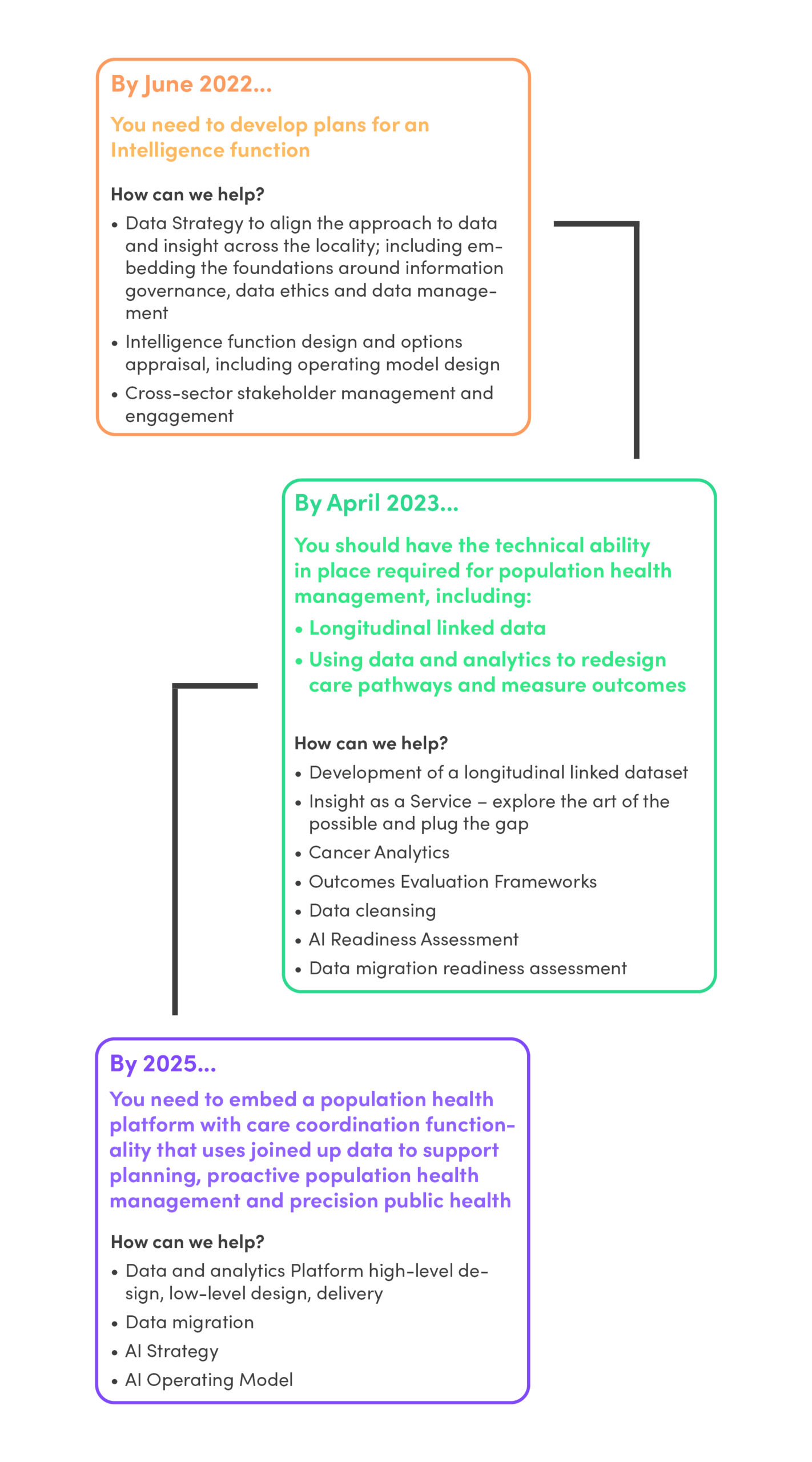 To some systems and partners, these initial steps will seem deeply challenging, with concerns around timelines, skills and the capacity to engage and iterate with partners sufficiently to build a cohesive plan that everyone can support. Other systems, however, will already feel confident that their nascent population health management capabilities are seeing progress – and feel ready to take that next step to really embedding and operationalising PHM products and cultural mindset.
At Agilisys we have the expertise and current knowledge to help you achieve your goals. We have been supporting ICSs and their individual partners across the full spectrum of maturity, and feel confident supporting you on your journey in a number of areas, having already supported clients in:
Developing legislatively required strategies and implementation plans for Intelligence Functions and Linked Datasets as a first step to unlocking the benefits of insight-led PHM.
We recently supported Suffolk and North East Essex ICS develop their thinking for an intelligence function and linked longitudinal dataset for population health management, and explored the cost benefit analysis for two preferred options. The options appraisal has provided the ICS with the evidence base to make informed decisions, and we are currently exploring the ways in which they can achieve their vision through an action-oriented roadmap.
Developing data strategies to assess the gaps between current data practices and capabilities against a collaboratively agreed vision and future state – accompanied by a clear implementation roadmap and business case.
Working in partnership with Bedford, Luton and Milton Keynes ICS we developed a system wide Data Strategy to unlock the power of data and analytics through collaboration and access to real-time, integrated data to maximise the effect of population health management.
Implementing data and intelligence function operating models in hospitals, central government, councils and ICSs – to create the organisational culture, skills, leadership and processes to make data driven change stick.
Developing or accelerating deployment of data platforms to integrate, analyse and disseminate population health management insights, providing end-to-end delivery or flexible access to architects, engineers and developers as you need them.
Developing AI Strategies using our outcome-driven AI framework to assess the readiness and maturity of the system and the wealth of data within it to drive innovation through advanced analytics, and establish the foundations for ethical AI through an action-oriented roadmap for change.
We are working with a London-based ICS to develop a first of its kind AI strategy to set the foundations for safe and ethical AI across the system, enabling them to realise efficiencies within workflows using AI and automation, and improve time to diagnosis and patient pathways through AI-augmented decision making.
Curating rich, shared datasets on cancer services performance and pathway progress across acute providers – to enable modelling, transformation, analytics and visualisation across the system to drive improvement and positive outcomes
Developing AI-enabled insight products to address core challenges by driving efficiencies and maximising the value of data to inform prevention and early intervention activity
We added an ML-based risk alerting tool to the Troubled Families database for Reading Borough Council which has enabled them to quickly triage referrals so that children at high risk of harm are identified rapidly and interventions designed and delivered to support the child or children in need.
It can be daunting but in the main it's exciting; data is the lynchpin for population health management and we all have the opportunity to trailblaze new approaches and techniques to tackle health inequalities and truly put prevention at the top of the agenda. Whether you're establishing the foundations, setting the strategic approach and plans for the Intelligence function, or exploring AI and advanced analytics through pioneering use cases – get in touch, we'd love to hear from you.