Liberating data to transform healthcare
We brought a panel of Agilisys experts together to discuss how data can be used to transform healthcare A perennially hot topic for decades, talk of joined-up care that use data to create patient centred services is nothing new. Back in 2010, a Department of Health paper about the information revolution titled Equity and Excellence: Liberating […]
We brought a panel of Agilisys experts together to discuss how data can be used to transform healthcare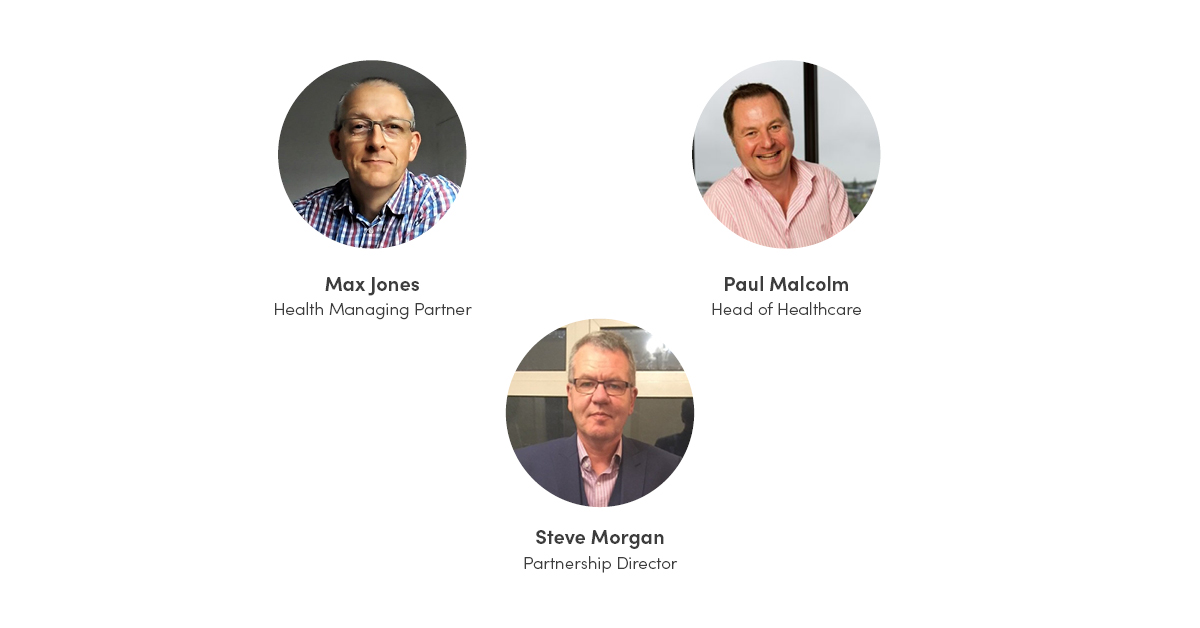 A perennially hot topic for decades, talk of joined-up care that use data to create patient centred services is nothing new. Back in 2010, a Department of Health paper about the information revolution titled Equity and Excellence: Liberating the NHS contained a quote that still sums up today's drive to create integrated care systems:
Information needs to be liberated from a closed bureaucratic system, to serve patients and the public and to drive better care, improved outcomes, foster innovation, and better use of resources.
Listen to Max Jones, Managing Partner – Health as he discusses transforming the use of data within healthcare:
Fast forward five years and NHS Digital's strategy for 2015 to 2020 talked about information being held in different places, in a variety of formats of variable quality, and the fact that we are failing to liberate the value of that data.
There's clearly a theme here that we've known for a long time about the benefits of joining up data to make it serve staff, patients, research and a whole host of requirements… but we have fairly consistently failed to achieve that on a macro scale. We've seen some pretty big schemes come and go – Care. Data is perhaps the biggest of all – and as a result, you could easily think that all was lost and that we're not actually on the cusp of something massive. But then along came 2020…
Making the best out of data
It's clear that 2020 has been a year like no other, as healthcare providers have seen their already stretched resources pushed to breaking point by the response to COVID-19. As a result, we've seen digital progress being made in days that would otherwise have taken months, or even years. Data has been at the heart of much of this innovation.
However, the use of data in healthcare that we've seen in 2020 is just the tip of the iceberg of what's possible, meaning there's a need to liberate data in order for transformation efforts to be further stepped up. As a community, in and around health, in the NHS and in the supplier community, there's a clear need to accelerate and maintain the momentum that we've seen during COVID-19, so that we provide better services to patients, and to staff and to citizens.
This does, however, mean a number of roadblocks need to be cleared:
Information lifecycle
Roadblock 1: Information Governance
One of the biggest hurdles for the healthcare system to overcome if data is to be liberated is information governance. Steve Morgan, Partnership Director at Agilisys explained:
"Over the last eight months we've seen huge strides made in the use of data, through the necessity of bringing information together for the greater good. There are any number of information governance reasons why that should not happen, but I think that there's a level of pragmatism that has to be applied going forward – as has been the case during the COVID-19 response – to allow decisions to be made faster. I think this is especially true for areas such as deployment of capability."
Roadblock 2: Considering the information lifecycle
If we are to use data effectively, we need to be clear about the information lifecycle: data becomes information, information becomes knowledge and knowledge then drives insight. How does this impact how we collect, manage and utilise data?
Roadblock 3: Mindset
It's a widely held belief that a mindset shift is required in order to make the best use of data. "The number of conversations that I personally have, where people think, well, I know I've got some data, therefore, I can just write a cheque and I can get to interact, is staggering," explained Steve. "The truth is there's a whole lot of work that you need to go through in order to achieve data excellence."
Roadblock 4: Data standardisation
Data standardisation is also a potential roadblock, according to our panellists. There's a huge amount of work to do when we're looking at integration of patient records with health and social care records, for example. The work Agilisys did with the Helping Hands solution around what became the 2.1 million vulnerable people asked to shield during the coronavirus lockdown brought the problem into sharp focus. 900,000 health records and 600,000 local government records were crashed together, without realising just how bad the data actually was, and the amount of cleaning up that needed to be done to make the data usable."
Don't underestimate the amount of effort we will need in order to get the best out of the data that exists."

Steve Morgan, Partnership Director, Agilisys
The ethics of data…
What data do we capture? And why? And who's capturing the data? How do you get it? Where does it go? And who gives you access to see who has got access to the data? And what do they do with it once they've got it?
Clearly data ethics is a big talking point: there is a challenge around who owns the data in the first instance Is it the patient or the citizen's data? Is it the NHS's? does it belong to the pharmaceutical company? There's a case to be made for each of those.
On a similar note, trust is another issue to overcome, which the panel agreed can be done through a combination of four key methods:
Overcoming the issue of trust:
1. Transparency. People need to have confidence that they can see what you've been doing with the data.
2. Communication. You have to have clarity, you have to make it simple, you have to make it digestible by the data subject, or their carers or family to understand exactly what's going to happen with data when you do subscribe to a service
3. Recognise that we are all patients. It's important that the boards of organisations who are making data decisions have representative representation from the patient community or the communities that they serve.
4. Reduce frustration through effective sharing. It can be particularly frustrating for patients to repeatedly give information that either on the letter you received, or which has previously been given to different parts of the service. Remove this duplication through data sharing and you build trust.
Given all of the above, is the real question:
How can we ensure data can be repurposed and reused as much as is necessary?
What are the golden rules of data reuse?
The second Caldecott report talks about the importance of not only protecting data, but also the duty of care to the patient to ensure that data is shared when it's the right thing to do. This sounds good on paper, but it can be difficult for people to navigate those kinds of regulations, especially in terms of extracting the value of data for all sorts of secondary purposes.
In the panel discussion four golden rules for data reuse were discussed:
1. Know your outcomes
Be really clear about what it is you're actually trying to achieve, what the purpose is, what the legal basis is for that transaction
2. Make the data accessible
Where you assemble data, you require a single version of the truth that you believe in, and which frontline staff will recognise
3. Have a robust data access control layer
Understanding who has a right to access information, either because someone needs to see the detail, or by aggregation and small number suppression, ensuring there's methods to prevent jigsaw puzzle attack and unintended consequences.
4. Create a flexible portfolio of tools
When we think about the multiple secondary uses of data – it might be operational management in real time, it might be strategic decision making in a three-year context, it might be planning next week's staff schedules – you need to know the tools and techniques from a technology point of view that you might want to use.
Is cloud a force for cost-effective and automated BI or a quick way to lose control of data?
It's clear from experience that the health sector isn't galloping towards use of the cloud. Alongside the caution with which moving data off-premises is treated with, it's clear there are application for which a move to the cloud wouldn't be appropriate.
Why data isn't a technology project…
When it comes to data use, one of the big mistakes organisations can make is treating the exercise as a technology project. If what you're trying to do is to increase collaboration, or efficiency within your organisation or your region, technology is not the limiting factor.
Max Jones: "If you don't look after data you can easily lose control of it. And when data comes off your premises, that's evermore true. Instead, I would treat any data project as a people and a process project, and a governance project. That way, you will retain control, and you'll reap the benefits of collaboration, both within an organisation and across multiple organisations.
"As we see more and more of the newer generation transactional systems reside natively in the cloud, we will see more and more of the secondary uses of data natively reside in the cloud. And as the integrated care systems come together, in order to focus on patient centred care, the ability to look at information across regions in one place with a single version of the truth becomes key.
Therefore, I think we will see a trend towards more becoming cloud-based, enabling effective governance regimes and management approaches to come to the fore.
Within all sectors and organisations – and healthcare is no exceptions, it's fair to say that data is that – it's data – it's the changes we make as a result of the insights, analysis etc. that actually liberates it in a way that enables healthcare to be transformed. This emphasises the need to embrace the whole change management journey and look at very specific targeted changes. Otherwise, we will fail to use the potential of data. We must measure outcomes, we must celebrate success. And, crucially, we must also celebrate careful failure.
One of the things that is difficult for management teams to do generally, across the public sector, is to recognise that it's okay to put in place a controlled experiment and look at what works adopt what works, look at and learn from what doesn't work, and to celebrate those failures in a controlled way.
The exciting potential of data to transform the future of healthcare…
Max Jones: "For me, data really excites me in the context of how it can help with efficiency and collaboration across the NHS. There are significant vacancies in the NHS, there simply aren't enough staff members to do all of the things that we want to do. And we have a significant number of people undertaking tasks, which are not at the top of their license. Therefore, we need to find some tools that will liberate that capability.
"I'm looking forward to bringing together technologies like the Internet of Things to capture data with low lag and low burden, the ability of robotic process automation to take out some of the mindless administration, and to bring it all together through today's collaboration tools – most notably Microsoft Teams – and the cloud platforms that allow us to start to join up some of the care. I think the opportunity for some established technologies to be brought together, and to change the efficiency landscape for our workforce is fantastic."
Paul Malcolm: "One of the most exciting areas where data is being used and gathered is in genomics. The UK is a world leader in genomic research, which generates huge amounts of data. But what can you do with the data afterwards? Personalised medicine is one avenue, or you could start to look at rare disease and potential treatment . The use of data in that clinical field is mind blowing and will make a better health care system.
"On a more immediate level, the use of data to run a better system truly excites me. The same ways you would use data in a business apply equally to healthcare. We have to concentrate as much on the business of running healthcare as we do the clinical impact. It's about admin, it's about paying your invoices and running your HR or scheduling an appointment. It's about sorting the potentially mundane processes that are essential to the efficient running of the hospital and using data to run the system better – to free up people's time to go and do things where humans can have a bigger impact by making decisions and talking to other humans."
Steve Morgan: "Data and the economics of care is what really excites me. Using predictive analytics to identify people who will ultimately require acute care, and then providing effective intervention to manage demand is massively important.
"The average cost of domiciliary care it £16.86 per hour. Acute care costs £400 per person, per night just for the bed. If we look at the budgetary challenges on the back of the pandemic, data and predictive analytics are going to help with the economics, which must be balanced if we are to continue to deliver – and indeed enhance – the high levels of care that we currently do."
---