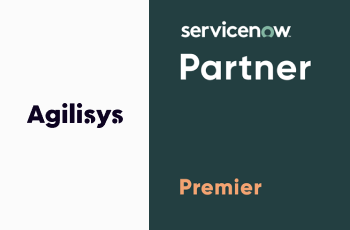 Agilisys awarded ServiceNow Premier Partner status
Agilisys has been named as a ServiceNow Premier Partner – just three months after launching its new ServiceNow practice. The award of Premier Partner status is reserved for partners who meet specific criteria across their ServiceNow offering. Agilisys is recognised as an organisation with strong knowledge and skills, high customer success and deep capability based […]
Agilisys has been named as a ServiceNow Premier Partner – just three months after launching its new ServiceNow practice.
The award of Premier Partner status is reserved for partners who meet specific criteria across their ServiceNow offering. Agilisys is recognised as an organisation with strong knowledge and skills, high customer success and deep capability based on a qualitative assessment of our digital transformation skills and industry domain expertise.
Dean Mortimer, Head of the Agilisys ServiceNow practice, said: "I've worked for a number of ServiceNow partners over the past decade, and this is the fastest any partner has achieved this level of status in the UK.
"The Agilisys ServiceNow practice has hit the ground running and this Premier Partner award has only been possible thanks to the commitment and hard work of the Agilisys teams that have embraced ServiceNow and the high-profile recruits that we have added."
Dean continued: "This is terrific news for Agilisys and our customers as it demonstrates how we are set up to take our sector leading expertise and knowledge to the next level by unlocking the potential of the ServiceNow platform.
"As the prevalence of ServiceNow continues to rise due to the accelerating digitisation of organisations and the way they work, this achievement for Agilisys demonstrates why customers are already turning to us, as a trusted partner, to enable mission critical services through ServiceNow."
Learn more about our work with the public sector and catch up on our latest insights.