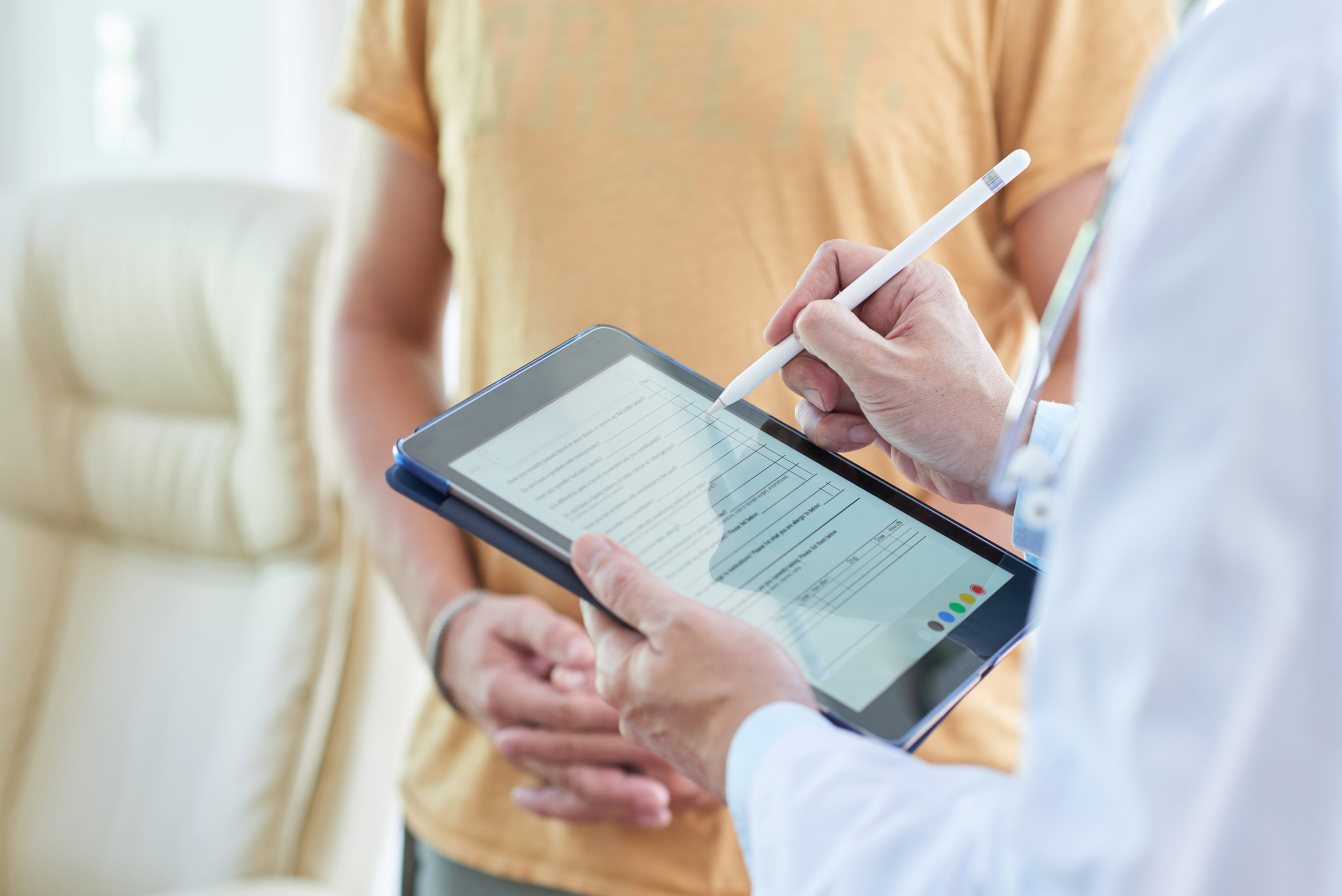 Analysing the impact of Covid-19 on UK health tech adoption
It goes without saying that Covid-19 has had a profound impact on the health sector, leading to levels of transformation and change that many would never have believed possible. Technology has, of course, been front and centre of these rapid developments, but what innovations have been driven by the pandemic? What are the key trends […]
It goes without saying that Covid-19 has had a profound impact on the health sector, leading to levels of transformation and change that many would never have believed possible. Technology has, of course, been front and centre of these rapid developments, but what innovations have been driven by the pandemic? What are the key trends in the market and, most importantly, what will be the lasting impact of Covid-19 on UK health tech adoption?
What follows is an independent piece by Tola Sargeant, Managing Director of TechMarketView that utilises its in-depth data and forecasting to answer these questions and paint a picture of the true impact of coronavirus on health technology adoption across the UK sector.
Max Jones, Managing Partner – Health, Agilisys
Health tech adoption: there's no going back
It is widely acknowledged that Covid-19 has already led to both a radical change in the perception of technology in the health sector, and a rapid acceleration in the adoption of digital technologies across health and care in the UK.
Tech provided the answer to many of the urgent questions the pandemic asked; and faced with the unprecedented crisis, rules were relaxed, funding increased and decisions made quickly. Deployments and developments that would normally have taken months or years, took days or weeks.
Where tech proved its worth – making life better and easier for patients, clinicians and carers – health and care professionals (who had often been portrayed as sceptical of technology in the past) became enthusiastic tech users, increasingly demanding data on which to base decisions. There can surely be no going back.
Rapidly moving to the 'new'
The pace of change to 'new' technologies – cloud, digital and cyber – is clear from TechMarketView's forecasts for IT spending over the next few years. Healthcare is predicted to be the fastest growing segment of the UK public sector software and IT services market between 2019-2023, growing at a compound annual growth rate (CAGR) of 3.5-3.8% overall. But, more importantly, during that same period 'new' technologies are set to grow from 25% to 45% of the market size.
In other words, spending on technologies such as cloud and new digital tools, is set to grow rapidly, whilst spending on legacy technology shrinks. The peak of this acceleration is expected to be 2019/20, when TechMarketView's forecasts show a near 28% increase in spending on 'new' technologies during the year, but a 3.5% decline in revenue from 'heritage' software and IT services.
So, as analysts, where have we seen the biggest impact from Covid-19 on the UK healthcare tech sector, what's leading the health tech adoption charge and what do we expect to see over the coming years?
The three Rs
Perhaps the most striking example of both the pace of change and the change in attitude to technology, can be seen within general practice in relation to remote consultations. Before the pandemic, only 10% of GP practices offered video consultations to patients; six months later, that figure is 99%.
The evidence suggests that patients have been quick to adapt to seeing their GP by video but also that many prefer it. In December 2019, just 15% of the 23 million primary care appointments each month took place by phone or online; by May 2020, many GP practices were delivering 90%, or more, of their appointments virtually.
It's a similar picture in the acute sector, where NHS Trusts moved rapidly during the pandemic from delivering the majority of outpatient services through face-to-face appointments, to delivering most services remotely. At the end of March, NHS England and NHS Improvement provided NHS Trusts with access to a video consultation platform. Six weeks later, the number of online consultations through the platform had increased from 200 to 6000 per day. It now seems inevitable that the use of digital triage and video consultation technology will become the norm across both primary and acute care.
Alongside remote consultations, remote monitoring of patients has gained widespread acceptance during the Covid-19 pandemic. Tech that until this year tended to be confined to pilots, has been rapidly deployed to monitor and support patients at home with great success. A good example is the 'Virtual Wards' of Covid patients being remotely monitored at home using devices and apps to measure their blood oxygen levels. This keeps hospital beds free for those most in need, and gives patients the reassurance that their condition is being closely monitored but from the comfort of their own homes. The challenge for the NHS now is to build on that success and maintain momentum, scaling remote monitoring services, where appropriate, as quickly as possible.
In common with other industries, the health and care sector has also seen a shift to remote working where practicable. Early in the pandemic, Microsoft Teams was rolled out across the NHS estate to enable collaboration and video conferencing, facilitating remote multi-disciplinary team meetings. By early October, some 13.2 million meetings had been carried out on the platform according to NHS Digital data.
Accelerated cloud and digital adoption
Indeed, across the health sector in general there has been a demonstrable acceleration in the move to cloud-based systems – whether clinical or back-office – in part because they enable remote and mobile working. Agilisys, for example, reports surging interest in digital adoption across the board, but especially in cloud-based systems (Microsoft 365, 'modern workplace', data analytics) and RPA. As the initial Covid-19 response calmed down, interest has remained just as strong.
Perhaps unsurprisingly, the public has moved equally quickly to accelerate its adoption of tech for health and care during the pandemic. Within days, care home residents adapted to video calls with their families via tablets, rather than face-to-face visits. Fifty times more people accessed the NHS 111 service for triage, with 750,000 online assessments carried out in just one day in mid-March. And the NHS Covid tracking app became the fastest downloaded app in British history with 12.4 million downloads in its first three days.
The importance of data and integration
In addition to being a catalyst for the adoption of new technologies at pace, the pandemic has demonstrated the importance of data-driven decision-making and the need for truly integrated care, with much closer collaboration across and between providers of health and care.
During the height of the crisis, decisions were made quickly and a wide range of public and private sector organisations co-operated to 'get the job done'. Nowhere was this more apparent than with the temporary Nightingale hospitals, which, thanks to a remarkable team effort, were built in nine days with the IT deployed in less than a week.
Post-Covid, the government is hoping to harness this collegiate spirit and fulfill its ambition to get the health and care system truly working as a system; breaking down silos within the NHS, and, importantly, between the NHS and social care, and simplifying information governance rules to support this enhanced collaboration. Of course, interoperability between systems will remain key too and it's vital that in the rush to implement new solutions, the sector doesn't lose track of its interoperability goals.
Over the next few years, we expect to see an increased emphasis on joined-up care and a renewed focus on localism, with data flowing more freely across the system. Indeed, as transactional systems become increasingly native cloud-based, it will be easier for analytical services to generate insight from larger data lakes, covering multi-organisational footprints. This points to a future where data analytics can be more easily used to support the optimisation of patient-focused care services across organisational boundaries, for example at the Integrated Care System (ICS) level in England.
Prevention is better than cure
The pandemic has also shown us vividly that, when it comes to health, prevention matters. Your chances of surviving coronavirus, for example, are markedly higher if you're not obese. As a result – alongside efforts to tackle social deprivation which is known to contribute to higher death rates – we expect a fresh impetus to the proactive, predictive and personalised prevention health strategy already espoused by the government.
This drive can only be helped by the majority of people now having smartphones or wearable devices capable of monitoring and supporting aspects of their health and wellbeing; and millions of people already have healthcare-focused apps such as the NHS Covid one in their pockets, giving them a personal digital connection to their health.
We will also see a growing use of population health management tools to target interventions more appropriately, and opportunities for new uses of technology not least in artificial intelligence (AI), which is already an area of growing investment. This is likely to mean the targeting of care services at those that will benefit most, with an increasing use of data to drive population health management techniques. During the first wave of the COVID-19 pandemic, for example, the UK's SCW Commissioning Support Unit used John Hopkins ACG system, which models and predicts an individual's health over time, to identify and segment the population at higher risk from Covid complications and prioritise its outreach and intervention efforts accordingly.
Driving wider digital transformation

Indeed, although the accelerated adoption of digital within healthcare was initially in narrow areas related to the COVID-19 response, we are now seeing a wider interest in digital transformation generally. This includes areas like AI and Robotic Process Automation (RPA), which until recently were the preserve of tech enthusiasts and a small number of NHS early adopters.
However, whilst health and care providers are undoubtedly more receptive to digital technologies now, there still needs to be a period of bedding-in rapidly deployed technology, ensuring security and stability. The rapid shift to digital has also exposed underinvestment and frailties in existing IT infrastructure, which will need to be addressed in the coming months to ensure that health and care organisations can continue to build on the rapid health tech adoption and digital progress made during the pandemic.
Continue reading our series that investigates the profound impact Covid-19 has had on health tech where Angela Eager, Research Director at TechMarketView, discusses bringing healthcare data and ethics to the fore.
About TechMarketView
Founded in 2008,TechMarketView is an influential analyst and advisory firm focused on the UK tech market. Trusted by tech suppliers and tech users as they navigate change, TechMarketView analysts are known for robust analysis of suppliers and disruptive market trends, blending UK depth with forward-looking insight.