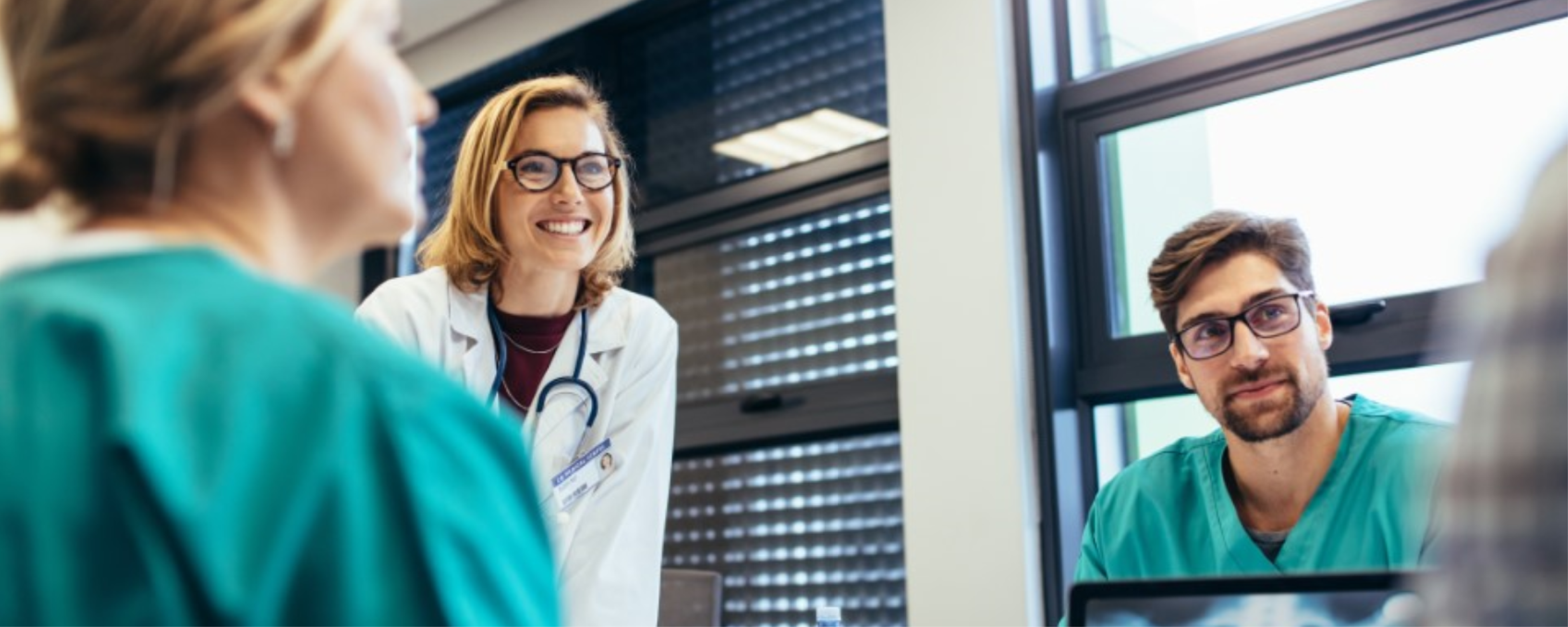 The post Covid-19 future of healthcare: Part two
Continuing our discussion around the future of healthcare post Covid-19, Rachel Dunscombe, CEO of the NHS Digital Academy and KLAS Arch collaborative UK lead shares her thoughts on key future technologies, why it's vital organisations learn from the rapid deployment of digital solutions during the crisis and how technology will be critical to future crisis […]
Continuing our discussion around the future of healthcare post Covid-19, Rachel Dunscombe, CEO of the NHS Digital Academy and KLAS Arch collaborative UK lead shares her thoughts on key future technologies, why it's vital organisations learn from the rapid deployment of digital solutions during the crisis and how technology will be critical to future crisis management.
What technologies do you think will really boom within the health sector following the Covid-19 outbreak?
We're obviously seeing telehealth and telemedicine booming. But I think that that needs to be backed up with full integration of patient records and the ability of the patient to contribute to their record as well. We need the data piece to catch up and that in turn will also need interoperability so that home-based testing really flourishes. It's all about taking those technologies that are working in the current scenario, getting the data sharing right and filling in the gaps around citizen needs to develop a rounded clinical set of interventions. We missed an opportunity with the 2014 care act update, which should have been a vehicle for accelerating integration of an individual's data.
I think we're going to see a boom in anything that removes constraints around the geography of care, by which I mean anything that stops you having to go to a building far away. A patient may go locally for a blood test and then have a video appointment, they may be sent a blood pressure cuff that is approved, and that data is linked into a consultation. Or, a patient may take a picture of a mole that's progressing and share it as part of the investigations.
The NAO report on digital transformation estimated virtual consultations using telephone or online video with GPs and hospital doctors will result in 30 million fewer outpatient visits per year. For me, the video piece is the one that's interesting to a lot of people and accessible. However, we absolutely must consider who digital is not suitable for. My late father, who had two strokes, had language and mobility issues, so he would never have been able to use a video intervention. So how do we make solutions equitable for those that have good reason for not accessing it, whether it's health or finance-related, and how do we create suitable pathways for those people? There's a dual consideration of making fully rounded pathways with what we've discovered and how do we remove barriers to digital access?
If there's a boom in healthcare technology, how will the NHS select solutions going forward?
That's an interesting one, because I think the NHS is currently in an experimentation phase and we're seeing lots of tactical uses of technology, given the current situation. I predict that we'll see some strategic procurements of certain technology and organisations consolidating platforms that can integrate properly with their infrastructure. Now, it's all very ad hoc. For example, I know some organisations that bought 10 different telehealth solutions but only use three fully.
In the eventual world, we will need something that complies with the best guidance and the best practice from the NHS around a safe journey for our clinical staff. I think we're going to see the rise of solutions that form part of a seamless, safe journey for clinicians and patients alike. An ability to plug and play in a way that allows flexibility of clinical pathways will also be crucial for the future.
The NHS Long-Term Plan states that digitally enabled care will be rolled out across the NHS to help transform services. This includes:
Is the rapid digital adoption driven by Covid-19 all positive?
Absolutely, yes overall positive – and I would like to congratulate my Digital Health colleagues on rising to the occasion with Covid-19 and balancing the risks and opportunities. From my experience, buying something that's not quite right is just as educational as buying the right thing. Its not ideal or potentially value for money but this is a possibility in this environment where deployment in hours or days has been essential. In this situation, we must review things on a regular basis, learn lessons, and have an appropriate approach to governance and feedback loops from the users of our systems.
There is no problem at all in reviewing what has happened and whether the tech chosen is fit for purpose going forward. These are unprecedented times so it's natural that there are lessons to be learned. Some people might have got their digital investments right the first time, others may have got the principles right but bought the wrong tech. Above all else, we've had the opportunity to work out what our new requirements are.
The key is bringing this new knowledge together so that it can be shared and benefit the masses. I would welcome a trade body or one of the think tanks performing a wash-up of what has or hasn't worked and what we should be doing in the new world. This could and should lead to a thriving ecosystem of UK video and telehealth companies that could be incubated and exported globally. Maybe we will see collaboration between the government, the NHS and some of those companies? I hope so.
Will we be able to quantify the digital impact of Covid-19 on the 'future' healthcare system?
It's difficult to quantify the impact of Covid-19 and measure the impact of digital changes at the moment because the statistics haven't come through in any quantity yet. To put it another way, there's annotation, but not quantification yet.
That will change – I'm going to be working with KLAS Arch Collaborative on quantitative research about the impact of coronavirus. We'll be pulling together data from 130,000 clinicians who provide us quantitative data. That's my next step, but it's important at this stage that we don't lose sight of the positive progress made. A Framework bringing together 11 telehealth providers was achieved in 48 hours, the digital systems for Nightingale Hospital at ExCel London were built from nothing to a fully functioning within three and a half days. These are great achievements that will no doubt form part of the retrospective wash-up of anything around Covid-19.
This leads me onto my key point here – I think there's an interesting compare and contrast of the fact that we have proved we can do things, because there's been very little evidence that we haven't scaled services or we've not done the right thing digitally. We've proved we can do it. But you then look at the NAO report, which says we have less than 2% investment whereas we should have nearer 5%.
Together, it's clear we have the capability in the system but not the investment. If you put the success we have achieved with telehealth, moving to phone appointments, reorganising outpatients, and so on, against the contrast of what we're being told now is chronic underinvestment and you begin to see a picture of what may be possible.
And finally, will technology play a key role in future crisis management strategies?
It's vital that we have crisis management strategies – that's a given. We were very lucky that Ebola, SARS and so on didn't impact us, but they could have done. We know there are regular disasters, earthquakes, tsunamis, whatever else globally, so we need to be constantly thinking about crisis management.
For me, technology has been brilliant in this space, but in ways that we didn't expect it to be. WhatsApp has been responsible for more meetings between people who needed PPE and PPE providers than I ever thought was possible. You can't pre-empt everything, so you need some very dynamic communication tools.
To support this, we need a good – and rapid – way of managing governance and crisis. In the Nightingale Hospital in London, the pairing of military style governance, cadence and decision making with the best of the NHS and technology was incredible. I was absolutely blown away by the speed of that project. That showed how we have all the skills, but it's how you govern it that matters. Add that governance to a flexible set of tools and the ability to communicate with every citizen as well, which was missing with the Covid-19 response, and we'll be well set up as and when the next crisis hits.
People power shouldn't be overlooked either – I truly believe we need to think very carefully about how we recruit people to help us in times of emergency. This came about with WannaCry – how can we, in a way that we've got the Territorial Army who come forward and help the military when required, have a network of people with relevant skills who can step forward and help? That could be with technology or more analogue tasks. Technology can really help us to do this and ensure we're organised for the future.
Missed part one? Catch up on the first part of our discussion with Rachel Dunscombe.