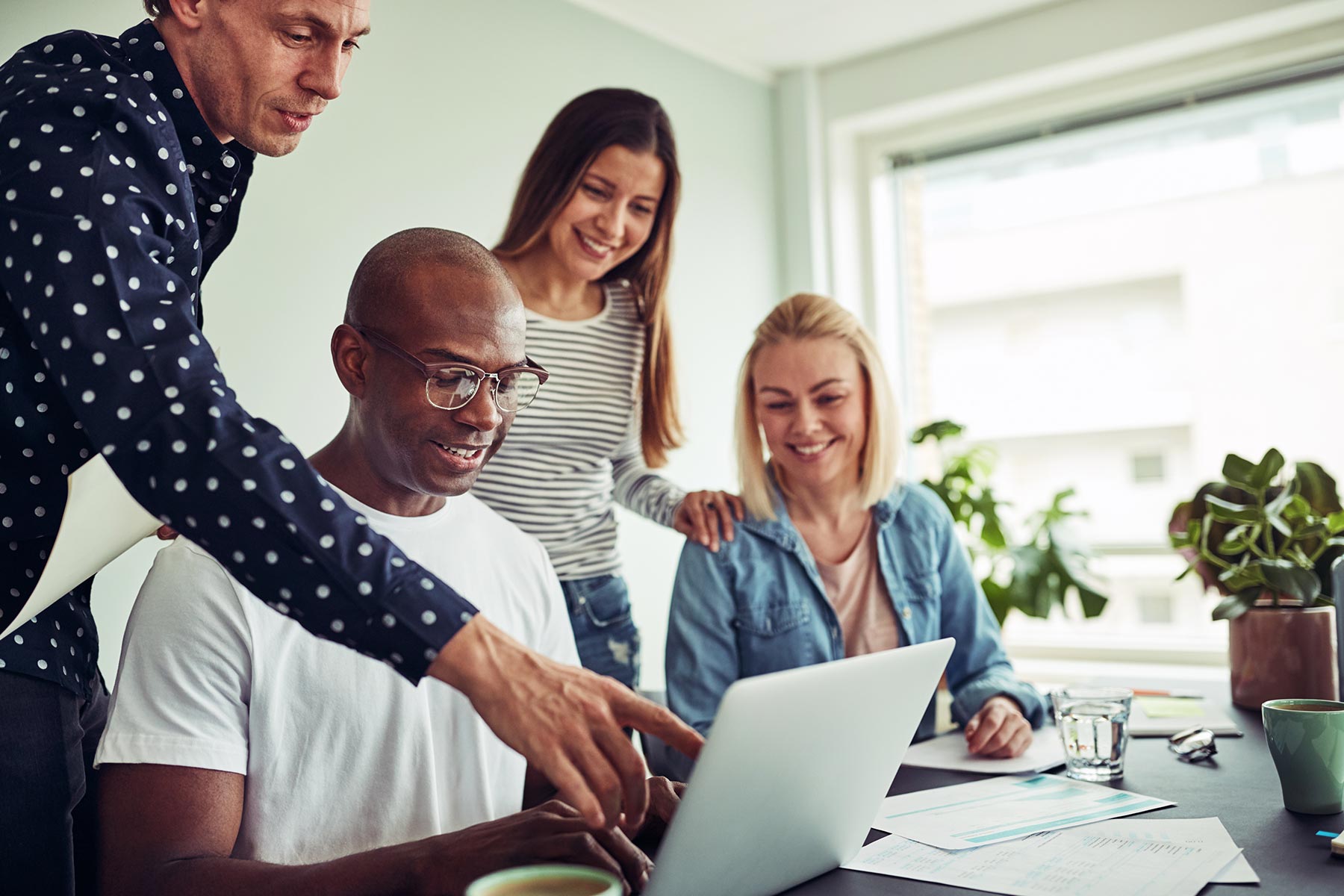 Top tips to help the public sector successfully adopt robotic process automation
Agilisys is working on a project with Aberdeen City Council to implement Robotic Process Automation (RPA) technology that reduces the administrative workload involved in drawing up teaching plans. In doing so, the council – the first local authority in Scotland to use RPA in this way – is freeing up the equivalent time of having 14 […]
Agilisys is working on a project with Aberdeen City Council to implement Robotic Process Automation (RPA) technology that reduces the administrative workload involved in drawing up teaching plans. In doing so, the council – the first local authority in Scotland to use RPA in this way – is freeing up the equivalent time of having 14 more full-time teachers in city schools.
Using their experience of numerous RPA projects, including Aberdeen, Caroline Gray, former Principal Consultant at Agilisys and the Project Manager for the Aberdeen City Council RPA Project and Simon Watkins, Managing Consultant for RPA and AI at Agilisys, share their thoughts on what it takes for RPA to be successfully adopted by public sector organisations.
RPA is as much about people as technology… 
Caroline: "At Aberdeen, we ensured leadership was aligned with what RPA means and what could be achieved. We spent a lot of time setting up conversations, starting at the top level with Andy McDonald, the sponsor for Aberdeen's transformation programme. From there we were able to start to cascade down, with senior backing to the relevant heads of service and team managers, so that everyone understood why RPA was being looked at. 
"RPA is, of course, one of those things that if not properly communicated, can create a sense of worry and fear. People often think that RPA will lead to job losses, but that wasn't the goal – it was always very much around capacity creation. Setting that context early on was important, as was helping people to feel comfortable with it as a technology in terms of how it was going to be deployed. This prompted people to talk about how RPA could support people who were under a lot of pressure because they'd already lost a lot of resources from their teams, who were struggling with big backlogs. It's about pitching the narrative in the right way – communicate well and buy-in will be easier." 
Pushback can be a good thing…  
Caroline: "There was with Aberdeen – it's natural to have some – and the key here is to turn it into a positive. Where there's nervousness around the scope of what is being automated and the benefits that it will provide, and cynicism around whether it would really deliver what was promised, gives you an opportunity to communicate further with people on a case-by-case basis – often those on the frontline who will be impacted on a day-to-day basis." 
The benefit of having RPA champions… 
Caroline: "One of the organisation-wide themes that has emerged is the need to understand RPA as a tool within your wider technology toolset. Having analysts, IT programme governance people who understand the capability RPA can offer, and knowing when to call upon it, is crucial to maximising potential. Having an overview of integrations, systems deployment and so on – and knowing how RPA can fit it fit within it is really helpful. RPA can be used instead of integration, for example, to the benefit of all." 
Recognise that RPA takes time and needs to be sufficiently resourced… 
Caroline: "A classic project risk is underestimating the time that your subject matter expert within the business would need to dedicate to getting it up and running. Backfill that expert, take them out of their usual tasks if needs be so they've got the time to dedicate to working with Agilisys and our consultants to develop a good design and to test it and to manage it into operational use. Just adding tasks onto someone's already busy day job is probably too much pressure for any one person.  
"For anybody embarking on an RPA journey, recognise that it takes time to set it up. And make that time available for the right person – ideally someone who is passionate about technology, efficiency, people and processes." 
Data matters… 
Caroline: "One of the big lessons from Aberdeen is that, as it always is with technology-enabled change programs, data is central to success. One of the key requirements for RPA is having structured data going into the process and being crystal clear around what we mean by structured data.  
"For example, there might be a form that's being used to supply data into a particular process. That sounds pretty structured, but actually what is it like in reality? How structured is that form? Inputs need to be consistent. Things like postcode lookups for addresses are essential – the lack of consistency that typing free text into forms brings can lead to problems further down the track because of the huge amount of variation possible. RPA success is about selecting processes where data is fed through consistently and in a very structured way. That's probably the biggest stumbling block we see with projects – data inputs need to be looked at in detail from the outset." 
Getting the data input right… 
Caroline: "The whole point of RPA is it should be very light touch, so the goal is to not have too much policing of data input – it should all be built into the design. If there are unstructured inputs that don't meet requirements, then by design it's pulled out and sent to a person to deal with. That's normal, there will always be exceptions to the process and not 100% of things will just go through the automation – there will still be a requirement for someone to manage exceptions on a day-to-day basis. Having a person very clearly made responsible for that, what I would call a process owner role, is something we've done a lot of work around."
Outcomes and solutions should come before technology… 
Caroline: "Helping to understand the right mix of technologies and where RPA should or should not be deployed, rather than being technology led is important. Outcomes matter! The first question should always be what are we trying to achieve? And how can we use the right blend of technologies to achieve those objectives?" 
Simon: "Transformation boards that understand all the different technologies available and what to deploy when are vitally important – and the same goes for working with partners who understand the technology available. That enables authorities to work towards intelligent RPA, where processes are executed across multiple systems, cloud solutions, and software-as-a-service offerings." 
Virtual workers have needs too so they need monitoring… 
Simon: "An often-overlooked element of RPA is that once you've done a development, there needs to be management of that virtual workforce. That means there's definitely a role change, potentially, or new roles need to be created within the business. Just having the development doesn't mean it's going to work every day, so somebody needs to monitor the virtual workers, schedule them and track performance.  
"And then you need to build in a retirement plan eventually, for your bots to make sure they're still bringing in the value they're meant to be, because if they're not being utilised, what's the point?" 
Start small and scale up… 
Simon: "A lot of companies, not just in local government, think RPA is the golden bullet to fix everything. They then try to fix every process, including the most complex ones. My advice is to start simple, start small. Find an area open to transformation, who have a big backlog that's causing them pain. Find a reason that people can buy into. 
"Even if you want to automate a large process, do a time and motion study. Identify where your backlogs in that process are, maybe just automate one part of the blockage at a time and understand what needs to be done to implement RPA. Then you can get more intelligent once you've got four or five processes running live and you can start seeing the benefits that justify more investment." 
Build the complexity… 
Simon: "The next stage is to get intelligent by bringing in maybe Optical Character Recognition (OCR) technology and intelligent bots that can actually learn. 
"It's worth pointing out here that there's no need to focus on just one solution – you can utilise a mixture. There's nothing to say you only have to work with one technology either – you should be looking for the right technical solution for the right problem. Get this mindset right and the sky is the limit!"